"
Never liked the name Spike, call me...SLASH!
"

—Spike renaming himself, Slash and Destroy
Spike, aka Slash, is an ally of the Ninja Turtles. Formerly as the pet tortoise of Raphael, he was a turtle that was rescued by Raph after he found him in the Sewers. But after Raph supervised a canister of Mutagen that he confiscated and the canister broke, the turtle submerged into the ooze to mutate himself into a mutant tortoise. Since the Mutagen warped his brain, he became berserk towards his former owner and the other Turtles. Some time later he became the partner-in-crime of The Newtralizer, who were both trying to eradicate The Kraang. But once he started to questioned K'Vathrak's sanity, he betrays him and starts to go on his own path. Once the Kraang Invasion came and the Turtles were no longer in New York City, he was recruited by Jack J. Kurtzman to become a part of the Mighty Mutanimals, becoming the leader of the team. He wields the Mace as a signature weapon of choice. He has a rivalry with The Newtralizer, Leonardo, and Raphael. Spike debuts in Rise of the Turtles Part Two and Slash debuts in Slash and Destroy.
Backstory
As Spike
As Slash
History
Appearance
Personality
Powers, Abilities,and Weaponry
Weaknesses
Relationships
Episodes
As Spike
As Slash
Gallery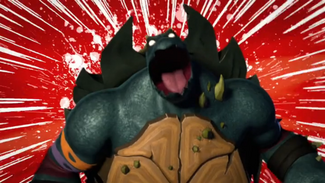 The Gallery of Slash can be see Here.
Trivia