Xever Montes, aka Xever or Fishface, is an enemy of the Ninja Turtles. He was formerly a human who was a Brazilian street thug, until he was recruited by The Shredder to serve The Foot Clan after an incident that lead him to be in prison and was partnered alongside with the famous martial arts celebrity, Chris Bradford. At some point, he mutates into a mutant Snakehead after getting in contact with the mutagen contained within a Mutagen Bomb of The Kraang, causing him to lack legs due to him being a fish. That was until the genius mad scientist and inventor Baxter Stockman built mechanical legs and breathers for him. After Super Shredder was resurrected by Kavaxas and Tiger Claw had to forcefully deal with modifications that were done to The Foot, he decides to quit from being a part of the clan in order for him to continue his stealing career, only that as a mutant instead of a human like in the old days. He wields a pair of Butterfly Knives and a Balisword as his signature weapons of choice. He has a rivalry with Chris Bradford/ Dogpound/ Rahzar and Raphael. Xever Montes debuts in New Friend, Old Enemy and Fishface debuts in The Gauntlet.
Backstory
As Xever Montes
Oroku Saki
came to visit the prisoner, who turned out to be the owner of the briefcase Xever was attempting to steal. Even though that the thief was trying to steal Oroku Saki's briefcase, the evil ninja master takes in consideration of Montes' skills as a thief.
The Foot Clan
. During his time in The Foot Clan, Xever Montes gets to meet his new partner-in-crime,
Chris Bradford
, a famous martial arts celebrity who is the right-hand man and apprentice of Shredder. From there, the duo start to develop a rivalry for each other due to Chris being much more higher in class than Xever.
Later on when Shredder had finally located his old nemesis, Hamato Yoshi, who was now living in New York City with his ninja army, Xever Montes and the rest of The Foot are taken by Shredder to New York to back him up in his hunt for Yoshi. At some unknown time period, he becomes the leader of a gang in Chinatown, New York known as the Purple Dragons.
As Fishface
Ninja Turtles
 were attempting to detonate the 
Mutagen Bomb
 of 
The Kraang
 on the rooftop of
Wolf Hotel
,
Chris Bradford
and Xever Montes (who went to hunt down the Turtles after failing 
Shredder
 in their previous mission) came to fought off the Turtles. During the fight, after 
Donatello
 successfully deactivates the bomb before it exploded, the Turtles surround the two men to finally finish them off. With nowhere to escape from the mutant turtles, Bradford breaks the glass container that contained the 
Mutagen
 and caused the two men to be washed away.
Hachiko
) and Xever mutated into a humanoid snakehead mutant (after grabbing a living snakehead at a sushi stand). With Shredder being distracted by his mutated henchmen, the Turtles retreat from their fight. Xever was temporarily no longer participated in the missions of
The Foot Clan
due to his mutant form lacking legs, until Shredder recruited
Baxter Stockman
, a genius mad scientist and inventor (that Dogpound encountered when Stockman and his
M.O.U.S.E.R.S
started to steal from him and the
Purple Dragons
).
mechanical legs and breathers
for Xever that he later on used so that he could be on land. On the same day he gained the mechanical legs, he confronted the Turtles for the first time in his mutant form. After getting angered for them mocking him, he fights them off and gains the mutant name of Fishface by
Michelangelo
, due to Xever's face resembling a fish thanks to his current mutant form.
History
Appearance
Personality
Powers, Abilities, and Weaponry
As Xever Montes
As Fishface
Weaknesses
As Xever Montes
As Fishface
Relationships
Episodes
As Xever Montes
As Fishface
Gallery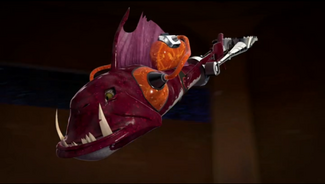 The Gallery of Fishface can be see Here.
Trivia
Community content is available under
CC-BY-SA
unless otherwise noted.